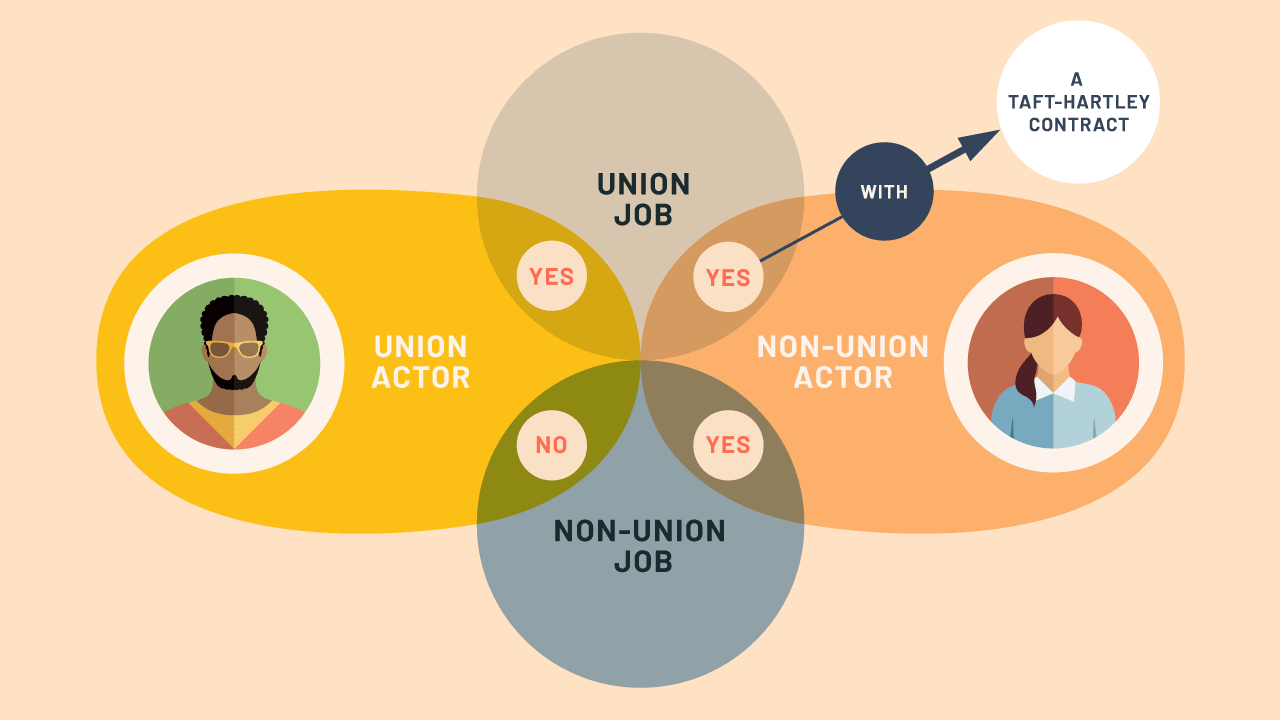 Our last in-depth blog (Union or Non-Union Voice Casting: How To Choose) compared the pros and cons of hiring union or non-union actors, and used our own data to debunk one of the biggest misconceptions—talent cost. If you haven't had a chance to read it, we highly recommend you do. The data-driven conclusion is surprising, and the content is a great jumping off point for any new producers or talent business managers who want to familiarize themselves with the voice over industry.
In that article, we mentioned how union actors cannot work on non-union projects. But the opposite isn't true. For any SAG-AFTRA voice project, you can hire a non-union voice actor. In fact, this is one of the main ways that non-union actors meet the criteria to join SAG. How do you do this? A Taft Hartley.
Taft Hartley is a SAG Contract
Specifically one that allows non-members to participate in union projects. If you're casting a union project and choose a non-union actor, you just have to fill out the Taft Hartley Contract, attach the actor's resume, and let SAG-AFTRA know if the actor was hired under the Low Budget Digital Waiver.
There are two options to submit these documents.
By mail:
SAG-AFTRA
Attn: Commercial Department
5757 Wilshire Blvd. 7th Floor
Los Angeles, CA. 90035
Or digitally: comm.coedinfo@sagaftra.org
The Taft Hartley contract and the actor's resume have to be sent within fifteen business days of the recording session. That's it!
Are There Caveats?
Not really. One non-starter is that you can't hire a member of your own production team/ad agency to do the voice over. If you don't report the Taft Hartley or file it later than the fifteen days, there is a $320 fee. And there is a $300 fine if SAG determines there is a 'preference' violation (basically the actor doesn't meet qualifications as a professional performer). This is why they request the resume.
SAG-AFTRA used to be more stringent with the Taft Hartley process (preferring that a union project be cast with existing union members) but in the last few years they've relaxed those policies. It's logical, really. The Taft Hartley contract helps SAG-AFTRA recruit emerging talent and provides those non-union actors a clear path to membership. It's a win-win.
Taft Hartley Makes it Easy To Hire Your Favorite Voice Actor
Many of our blogs may seem like we're pro union. We are, I suppose, because we want working actors to flourish and SAG-AFTRA has created programs that have made hiring union actors much more affordable. But really, we're pro options. When you cast through SelectVO.com, we want you to get the best voice talent auditions possible. And when we take a bird's eye view of the voice over industry, casting union—and using Taft Hartley for non-union actors—will give you the best options, every time.
For questions regarding Taft Hartley, call the commercial division of SAG-AFTRA at 323.549.6858.