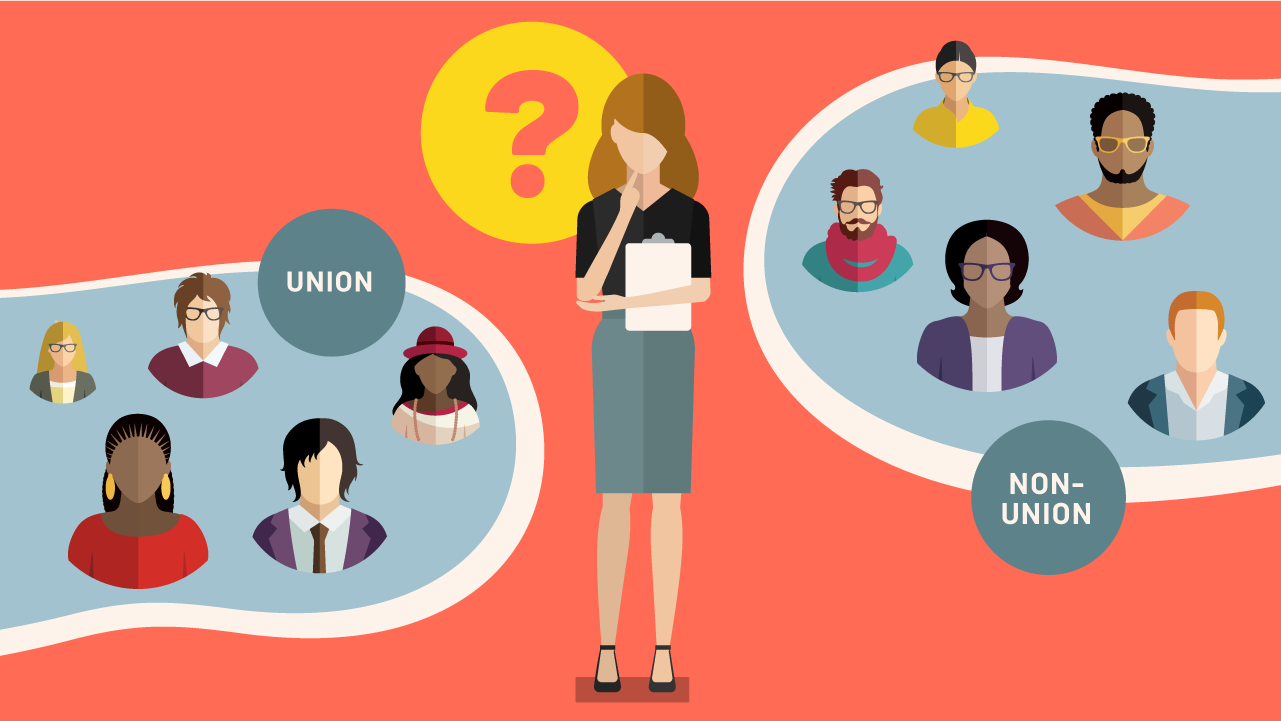 It's the great debate: should a client cast union or non-union actors for their voice project? Right away it's important to note that—in our experience—this debate is rarely about the pro's and con's of the talent pool (which should be a huge consideration that we'll dive into). Instead, it's almost exclusively centered on cost, and how the voice actor will be paid.
A lot of people think that casting union actors is always more expensive and budgeting for union talent payments is unpredictable due to residual fees. But is that perception grounded in reality? And what other factors should come into play when casting a project?
First, a few definitions for those new to the voice over industry:
What is "Union?"
When you hear someone is a "union" actor, or it's a "union" job, the union is SAG-AFTRA. The Screen Actors Guild and the American Federation of Television and Radio Artists have been around separately since the 1930s. They merged in 2012. Like all unions, they use collective bargaining to institute policies and rate structures.
Maybe you've heard the term "radio scale" or "TV scale." Those terms refer to a rate structure agreement set by SAG-AFTRA with companies that have signed an agreement to use union actors. Those companies (ad agencies, animation companies, video game companies, etc) are called Signatories. It's a big word that's always confused me, but basically a signatory is a company who has agreed to SAG's collective bargaining rates and safety protocols, and in doing so, ensures that those rates and protocols are followed.
For ad agencies and advertisers that have agreements with SAG, there are specific talent payment agreements that must be followed. These can include residuals based on how and where a project is being used.
What is "Non-Union?"
Non-Union refers to actors who aren't members of SAG-AFTRA. Some actors choose to be non-union. Some actors live in "right to work" states. Some actors are just getting started and building their experience and resume.
Project-wise, it's pretty simple: If a company (ad agency, animation company, video game company, etc) isn't a SAG-AFTRA signatory, they don't have to follow SAG-AFTRA guidelines.
Non-union is a bit of the Wild West. There is no organization overseeing this side of the industry, or collective agreement on rates, though we have seen a trend of best practices when displaying rates (session fee + buyout term + 20% agency fee).
The Talent Pool
Right off the bat it's important to note: SAG-AFTRA actors cannot participate in non-union jobs. This is worth addressing because the vast majority of voice talent in LA, NY, or Chicago, are SAG-AFTRA actors.
Like professional actors seeking a talent agent, the majority of actors want to be in SAG-AFTRA. This opens up a world of opportunities in television, movies, the majority of on-camera commercials, as well as SAG-AFTRA dominated voice over categories such as animation, video games, and foley.
Which talent pool has better trained and experienced performers? Individual to individual, there's no real way to compare. But if you were to randomly pull one hundred SAG-AFTRA actors and one hundred non-union actors from their respective talent pool, the SAG-AFTRA actors would undoubtedly have more experience, more training, and a deeper resume. It's the product of vetting. All SAG-AFTRA members are professional performers who've booked enough union-covered projects to qualify to be members of the union. It's much more exclusive.
There are great voice actors that work non-union, but there's also an inherent issue of quality control. Anyone can say they're a non-union actor. If you cast non-union, you should always go through reputable talent agents (Want the Best Casting Experience? Use Talent Agents). They are your primary mechanism for quality control in the non-union space.
Cost Comparison
No reason to beat around the bush: there are a LOT of categories where union and non-union rates are very comparable. I didn't expect that, but writing this—now—enormously long blog, I learned there are a few main reasons for this parity:
SAG-AFTRA recently introduced new rate structure programs that make budgeting for talent payment for TV, Digital and Radio much easier.
For Corporate, Educational and Non-Broadcast content, which includes e-learning, industrials, videos for internal use, IVR, and a host of other kinds of video, they have a very competitive session payment that includes 3 years of use.
The standard non-union "+ 20%" for agents does not apply in the union world, where agents are limited to a 10% commission which comes out of the actor's pay.
These new SAG-AFTRA programs are called the Upfront Use Packages. I'm using the payment options found in these programs for the comparisons, but SAG has traditional rate programs that may be better for you cost-wise depending on your usage plans. If you have questions about that, the Union will create a free talent payment estimate for you, taking into consideration all your specs, so you can choose the best option for your project. For that information, please contact Sue-Anne Morrow, Director/Strategic Initiatives at SAG-AFTRA:
Pertaining to Non-Union rates, there are organizations that publish guidelines, but in our experience these aren't rigidly followed. So for the comparisons below, we looked at real non-union projects that were cast through SelectVO.com.
Some of these comparisons won't be exact. This is due to either the buyout term or category grouping. But hopefully it sheds some light on total cost and the predictability of that cost.
TV Broadcast + Digital Commercial
Union rate compared to non-union rate: a little bit—or a lot—more.
Non-Union Rate Examples Found In SelectVO.com
$25k buyout for 2 years.
$2500 for 6 weeks, broadcast + digital
$350 + 20% session fee. $5000 + 20% 2 year buyout
Union Rate Examples
TV is, historically, where residuals can be complex—there can be Cable, Wildspot, and, if you are planning on airing spots nationally on broadcast networks (ABC, CBS, NBC), Class A use. Basically, every time a spot airs across the country on a national broadcast network, the actor gets additional Class A use pay.
But SAG's Upfront Plus program alleviates a lot of the residual concern. With Upfront Plus, you pay $15,000 up front and have unlimited media use for one year, on both digital platforms (websites, YouTube, social media) and TV, excluding Class A, where you are provided 10 Class A uses before the residual structure kicks in of $100 per use.
This is definitely one where it makes sense to reach out to SAG-AFTRA if you're casting union and your usage is under one year.
Digital Commercial
Union rate compared to non-union rate: the same, or a bit more.
Non-Union Rate Examples Found on SelectVO.com
$1250 + 15% agency, 1 year Web and OTT (Over the Top. Example: Hulu)
Union Rate Examples
If you're just advertising online, SAG's Upfront Digital rate is $2868 for a one year term, and includes all Digital use, including websites, Social Media and OTT.
Terrestrial Radio
Union rate compared to non-union rate: more, the same, or less.
Non-Union Rate Examples Found on SelectVO.com
750 + 15%, 8 week usage = $862.50
$350 + 20% session fee, $750 + 20% one month usage = $1250
Union Rate Examples
$350 session fee + $700 for one month usage (session fee is applied against the use) = $700 total
$350 session fee + $1150 for eight week usage (session fee applied) = $1150
Streaming Radio
Union rate compared to non-union rate: less
Non-Union Rate Examples Found on SelectVO.com
$350 session fee + $800 + 20% for 6 months streaming radio
Union Rate Examples
$350 session fee + $750 for 6 months streaming radio, session applied = $750
Industrials
Union rate compared to non-union rate: the same or even lower due to the 3-year term.
Non-Union Rate Examples Found on SelectVO.com
$450 + 20%
$300 + 20% session fee, $2000 + 20% usage (including online).
Union Rate Examples
SAG-AFTRA calls Industrials "Co-Ed" (for Corporation/Educational). The rate is surprisingly low at $488 for the session and this includes a 3-year use.
So where does that leave us?
I'm really surprised by SAG's updated rate plans. Going into this blog, I thought I'd say "the SAG talent pool is, on the whole, better but casting union costs a lot more" but with the UpFront and Co-Ed options SAG-AFTRA has in place, the rates are very comparable. Don't get me wrong, casting union can still be more expensive but—at least with the clients that cast through our site—the non-union rates aren't low balls and that washes away some of the perceived non-union advantage when it comes to rate.
For Industrial, Terrestrial/Streaming Radio, and Digital Broadcast, SAG-AFTRA is super competitive—and in some cases, even lower—with their rates. For TV broadcast, SAG-AFTRA is more expensive. However, depending on your talent budget, maybe not by a lot. It's definitely a case-by-case basis.
The one place that non-union has a clear advantage is with usage flexibility. The rate comparison wasn't as clear cut because with non-union, you can group broadcast, over the top, digital, industrial (basically whatever categories you want) together and then attach a rate and buyout term to it. With SAG-AFTRA, they have programs that combine everything into one package (UpFront Plus as an example) but it's generally a more a la carte experience.
For me, unless you have a very specific talent budget and are planning on crushing national broadcast networks like NBC, ABC, CBS, etc (where residuals become a major factor in talent payment) I'd cast union, or at least explore that option first.
The reason is straightforward: the cost is very comparable for many categories through these new plans AND you can still cast from the non-union talent pool (you just fill out a Taft Hartley form to do so). It doesn't work the other way, and that limits your options. And in the end with casting, you want as many—and the best—casting options that your budget allows.
Links to More Information
SAG-AFTRA UpFronts
https://www.sagaftra.org/files/1sheet_ComAdAgency_v9_FINAL_NoCrops.pdf
SAG-AFTRA Flex & Traditional Radio Rates
https://www.sagaftra.org/files/CommercialsAudioRates2019.pdf#page=2
SAG-AFTRA Audio Flex Calculator
https://www.sagaftra.org/audio-commercials-calculator
SAG-AFTRA Corporate-Educational (Industrial) Rate Sheet
https://www.sagaftra.org/files/2019%20Rate%20Sheet.pdf
Non-Union Rate Sheet
(In our experience, our clients pay more.)