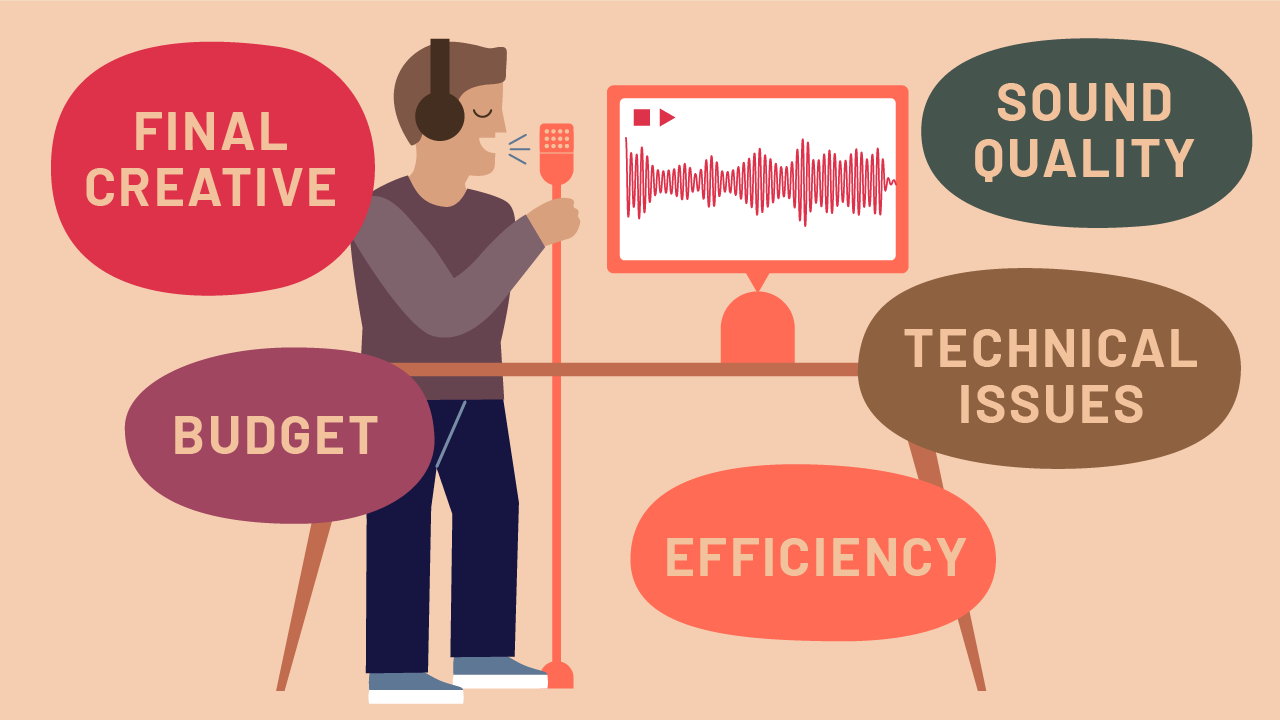 (Update! As an argument for the current strike, SAG released a figure which indirectly supports the findings of this engineer survey. Of the 170,000 plus members in SAG, 87% of SAG actors don't quality for health insurance as they make less than $26,000 per year. This supports what engineers hear: the majority of actors just don't have the financial resources to build a broadcast-quality home studio.)
Home studios helped all voice actor-related industries get through a pandemic where getting ill could mean hospitalization or even death.
Like other post houses, Studio Awesome adapted to this new normal. Often, sound quality suffered for safety, but that was a more–than–fair compromise. But within that, we saw a huge drop for what was acceptable for voice recording. Where pre-COVID an actor would almost always be sent into a professional studio automatically, now a closet with some Amazon-sourced acoustic treatment will do. This has continued post-vaccine.
But should it?
To better understand the real-world impact home studios have had on cost, efficiency, and the final creative, I sent out a survey to major mix studios around the country whose primary focus is advertising. Forty-two audio engineers responded, which represents a large percentage of our industry.
Below are a few of the questions they answered. To see the whole survey and read engineer comments, click here.
IN YOUR ENGINEERING EXPERIENCE, WHAT RATIO OF ACTOR HOME STUDIOS ARE "BROADCAST QUALITY?"
The term "broadcast quality" has become to home studios what "world's best coffee" has been for diners. It's meaningless. Very few home studios match the sound quality and noise isolation of a professional studio. It's a physics thing, it's certainly a financial thing.
There are great home studios. We've worked with them. But we've worked with more that aren't where, under our breath, we've said "just send the actor in."
But what do the surveyed mixers say?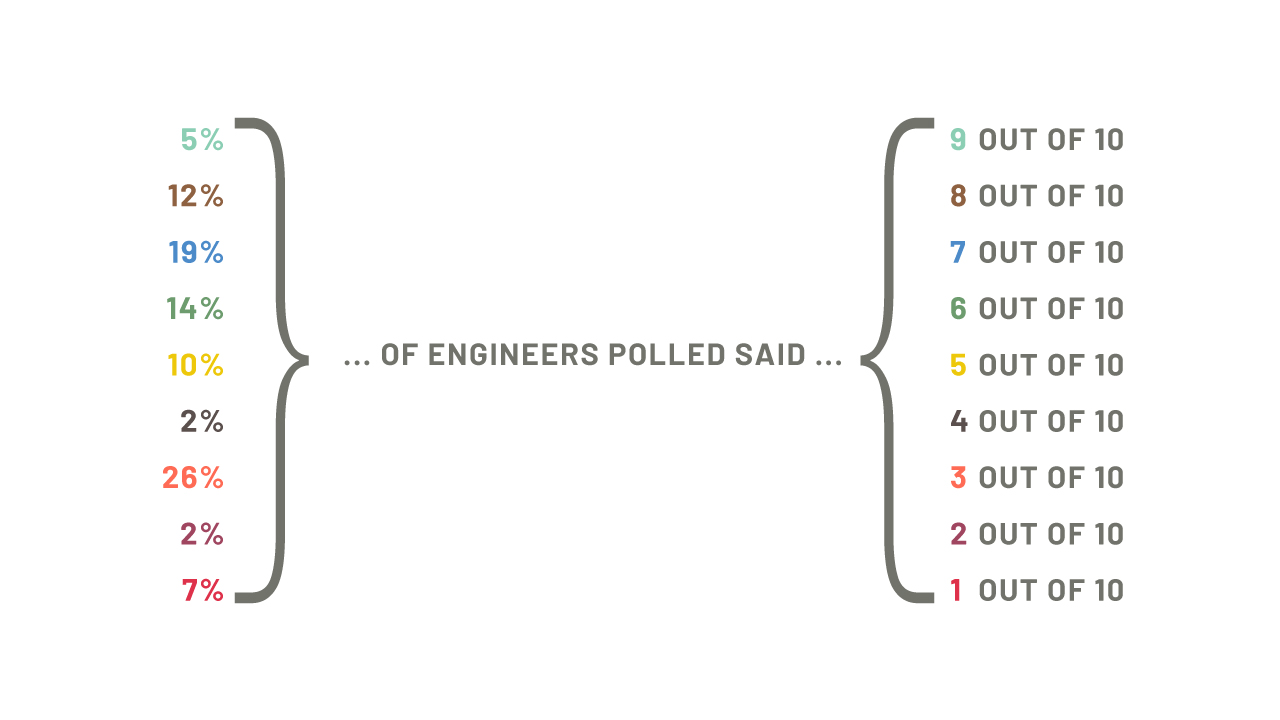 There's no reason to drill down into this data, but it's important to understand what that ratio means. Nineteen percent of engineers polled said that 7 out of 10 home studios were 'broadcast' quality. I think we'd agree that's a positive response. But even then, that means 3 out of 10 weren't broadcast quality and those actors should have probably gone into a professional studio.
The largest contingent of engineers (26%) said that only 3 out of 10 home studios were broadcast quality. That means 7 out of 10, weren't!
But wait! You may be saying to yourself that you've listened in on these sessions and everything sounded fine. The general consensus with audio engineers is that their clients don't hear the bad audio because they're listening on Zoom. And they don't hear it later because the engineer has spent a chunk of time fixing it.
DO YOUR SESSIONS (RECORDING, EDITING, MIXING) TAKE LONGER WHEN RECORDING AN ACTOR FROM THEIR HOME STUDIOS VERSUS IF THE ACTOR HAD BEEN RECORDED AT A PROFESSIONAL STUDIO?
74% of audio engineers say their sessions take longer
26% of audio engineers say their sessions don't take longer
FOR THE 74% OF AUDIO ENGINEERS WHO SAID SESSIONS TAKE LONGER, HOW MUCH LONGER DO THEY TAKE?
81% of audio engineers said less than an hour
19% of audio engineers said more than an hour
I think a lot of ad clients still book less–than–great home studios because they believe it saves the ad agency money. But when I speak to engineers, I often hear the opposite. Why? Technical and sound issues that rarely occur at professional studios increase billable session time. Basically, you're paying the mix studio more.
The majority of voice recording sessions that are booked at Studio Awesome last about an hour. After the hour minimum, most studios charge in half hour increments – but if a session even leaks a few minutes past – that becomes a full hour of billable time. So for the 74% of audio engineers who say a session takes longer when using a home studio, it's likely there are minimal-to-no cost savings.
FOR THE 74% OF AUDIO ENGINEERS WHO SAID SESSIONS TAKE LONGER, DOES YOUR CLIENT SAVE ANY MONEY USING HOME STUDIOS?
31% of audio engineers say 'Yes.'
48% of audio engineers say 'Sometimes'
21% of audio engineers say 'No.'
So only 31% of the time it is a certainty that money was saved. Half of the time, money may have been saved. And the rest of the time, no money was saved.
AFTER YOU CLEAN UP/EDIT HOME STUDIO RECORDINGS, WOULD IT STILL SOUND BETTER IF THE ACTOR HAD JUST RECORDED IN A PROFESSIONAL STUDIO?
26% – Yes
41% – Most of the Time
24% – Some of the time
10% – No
If you care about the quality of the recording, this matters. It's hard to clean up bad audio. That's why ADR is such a staple in TV/Film. Per this survey, 67% of the time – even after the engineer took the extra (billable) time and used all of their bag of tricks to make the audio sound the best they could make it – the audio would have sounded better if the actor had just been sent to a professional studio.
I've heard the argument that the audio doesn't matter as much now because most consumers view content on their phones. They may be viewing the content on their phones, but they're listening to the content on their Airpods, which are better than most peoples' stereos. If anything, the need for fidelity is greater than ever.
BASED ON YOUR EXPERIENCE WORKING WITH HOME STUDIOS WOULD IT BE MORE EFFICIENT FOR THE AD CLIENTS IF THE VOICE ACTORS RECORDED AT A PROFESSIONAL STUDIO?
69% of audio engineers surveyed said 'yes'
31% of audio engineers surveyed said 'no'
Your time is valuable. 69% of audio engineers say you're wasting it by not sending the actor to a professional studio.
WOULD THE SESSION RUN SMOOTHER AND THE FINAL MIX BE BETTER IF THE VOICE ACTOR RECORDED AT A PROFESSIONAL STUDIO?

 
79% of audio engineers said 'yes'
14% of audio engineers said "it would be the same."
7% of audio engineers said "no."
This is a big one. It may be worth reading the question again to fully grasp what is being asked:
79% of the audio engineers who anonymously answered this survey said that the final mix (aka, the final execution of the creative) would be better if the voice actor recorded at a professional studio.
Ignore cost savings (perceived or real). Ignore the added session time and all the other little issues that may crop up when using a home studio. 79% of the audio engineers surveyed said your final creative won't be as good if you use a home studio.
Even for me, who has been in the studio business for 20+ years (and personally believe that 50% of actors should probably go into professional studios) I was shocked. There are so many parts to a mix. Yes, the voice, but also music, sound design, artistry, and even picture. So why would an overwhelming number of the engineers surveyed say that the final creative would be better if the actor had recorded in a professional studio?
I think it's the effect the home studio has on the actor and their performance.
Think about it. Before COVID, an actor's sole job was to perform. They'd come into a professional studio, grab a coffee and be set up with scripts in hand. They could focus.
But when an actor is required to use their home studio, while they are hired to perform a role, they are burdened with the task of being an engineer. And most of them aren't engineers. They're artists. And this has made their job much more complicated.
They don't have to just listen to direction, scratch down revisions, read at a different pace or even adjust their voice. They now have to make sure their mic signal is getting to the digital interface and to Source Connect. That the router ports are open (or the signal will drop). They have to record a backup and maybe play back a take. They have to worry about their upstairs neighbor who walks on their heels, the guy next door who uses a leaf blower. All the traffic around them that seems especially loud when they need everything to be utterly quiet.
And heaven forbid there is a technical issue and they can't connect. The engineer calls and troubleshoots with them. They feel that heat on the back of their neck and finally, fifteen minutes past the scheduled session start, Source Connect works and they can record. The actor's heart rate is up, but they try to perform the role to the best of their ability – with all 85% of the focus they can give it. Why 85%? Because the other 15% is worried about the backup, the connection, the level. They can never just perform.
I think that's the bombshell of all of this. Do clients save money using home studios? Sometimes. Do home studios add convenience? Mostly for the actor. Is it worth the final creative suffering (even slightly)? I'm willing to guess that most of you would say 'no.'
If the actor has a bad home studio, send them into a good one. To find professional studios nearby, please check out our Studio Directory.
I know this is a hot topic. If you or your team have any questions or would like to discuss further, please contact me at mike@selectvo.com