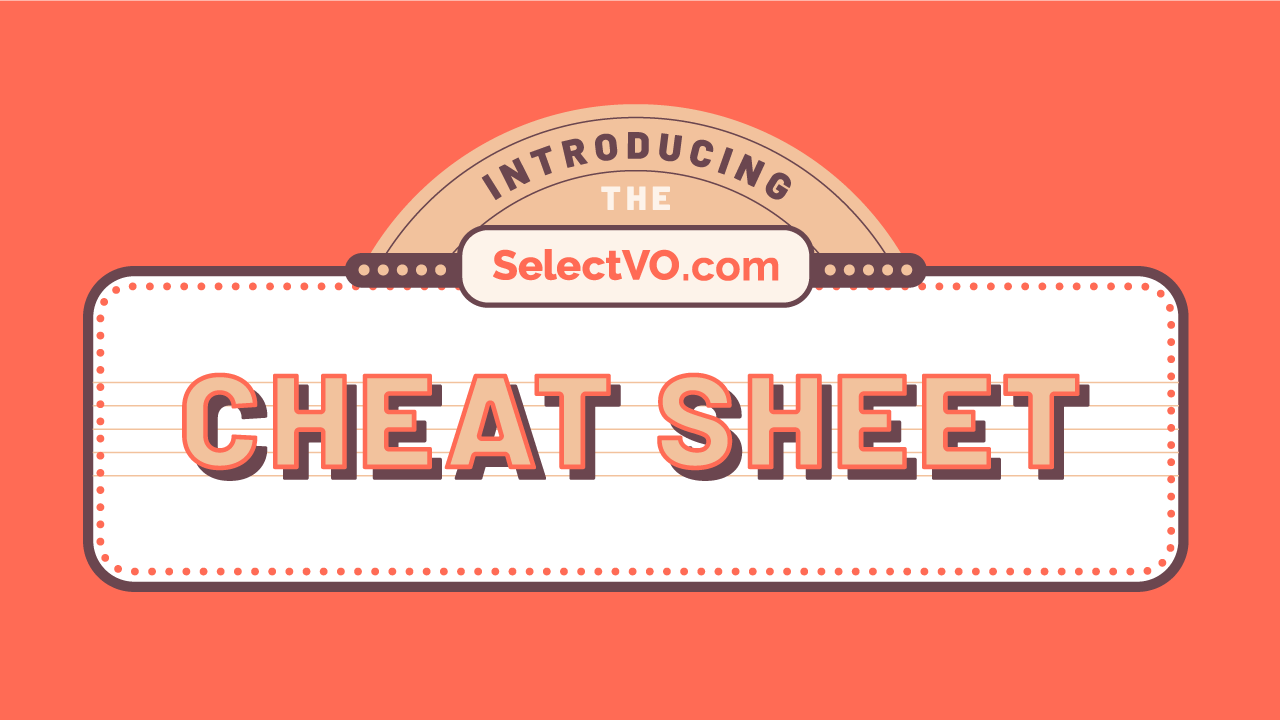 For new or prospective clients, a quick virtual demo answers the majority of questions when it comes to voice casting through SelectVO.com and using key features to make sorting and sharing voice actor auditions a breeze. But our clients are often too busy to schedule a demo and they have to cast ASAP. For that, we offer our super sweet cheat sheet.
This cheat sheet highlights how to sign-up, cast, and share voice casting projects with your team. It's also a great tool for onboarding new employees about SelectVO.com and our voice casting process.
If you'd like a pdf version, please e-mail us at info@selectvo.com.
Sign Up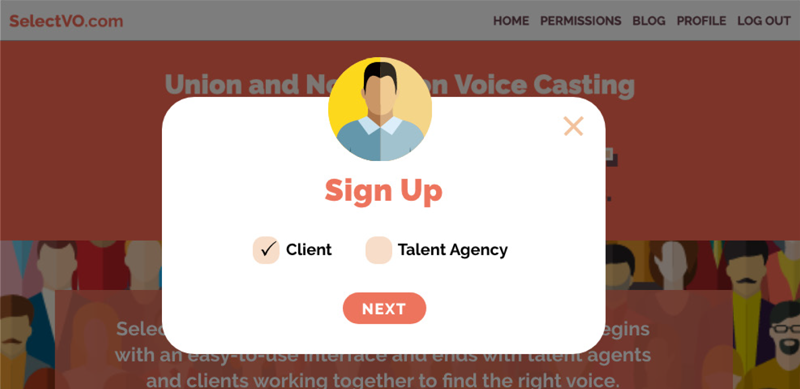 Go to www.selectvo.com, click sign-up, and follow the instructions. You'll receive an e-mail to authenticate your account and choose your password. You're ready to cast!
Audition Notifications

To receive an e-mail when a talent agency begins to upload auditions, go to 'Profile' and select that option.
Permissions

Permissions allows full admin access of your casting projects to another user. This is extremely helpful for Talent Business Managers and Producers who share responsibilities.
TIP: Permissions invitees must have an existing SelectVO.com account.
Billing
We invoice after the project based on your company's billing and PO requirements. So go ahead and cast. We'll deal with invoicing later.
New Casting Projects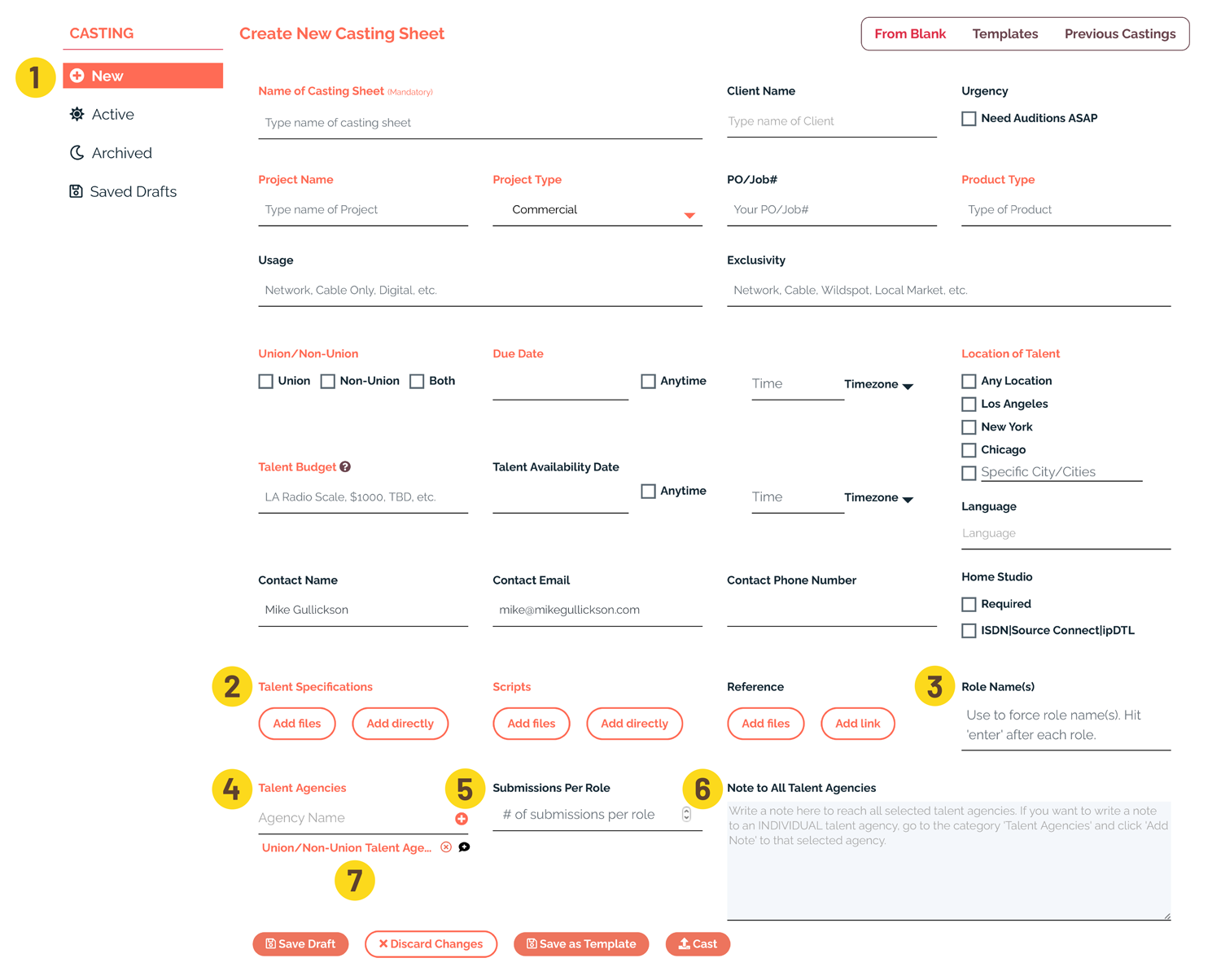 Click 'New' to Create a Project. Mandatory fields are orange. The other fields are optional. TIP: To save time, you can create templates or re-use previous casting projects.
Talent Specs & Scripts You can upload as many pdf or Word documents as needed. You can also cut & paste, or type it in. TIP: NDAs can be uploaded into the Talent Specifications section
Roles Names. Enter role names for a perfectly organized audition list.
Choose Talent Agencies Click the plus sign surrounded in orange. To invite a talent agency to the project, click on their name. Click the star icon to shortlist your favorite talent agencies.
Submissions Per Role. Choose how many auditions you want each talent agency to submit per role. TIP: If left blank, you may get over a thousand auditions per role!
Send a Note to All Talent Agencies. If there is relevant information not covered by the other casting fields, enter it here.
Send a Note to an Individual Talent Agency. Once talent agencies are selected, click on [symbol] to write a note to an individual talent agency.
E-mail Confirmation. You will receive an e-mail that your project is active. A project link is in the body copy. You can share this with your team.
TIP: There are multiple ways to share the link. The link gives your team access to the project so they can listen to, download, or choose their favorite auditions. More options to share the link are found on the Active Casting page.
Active Casting Projects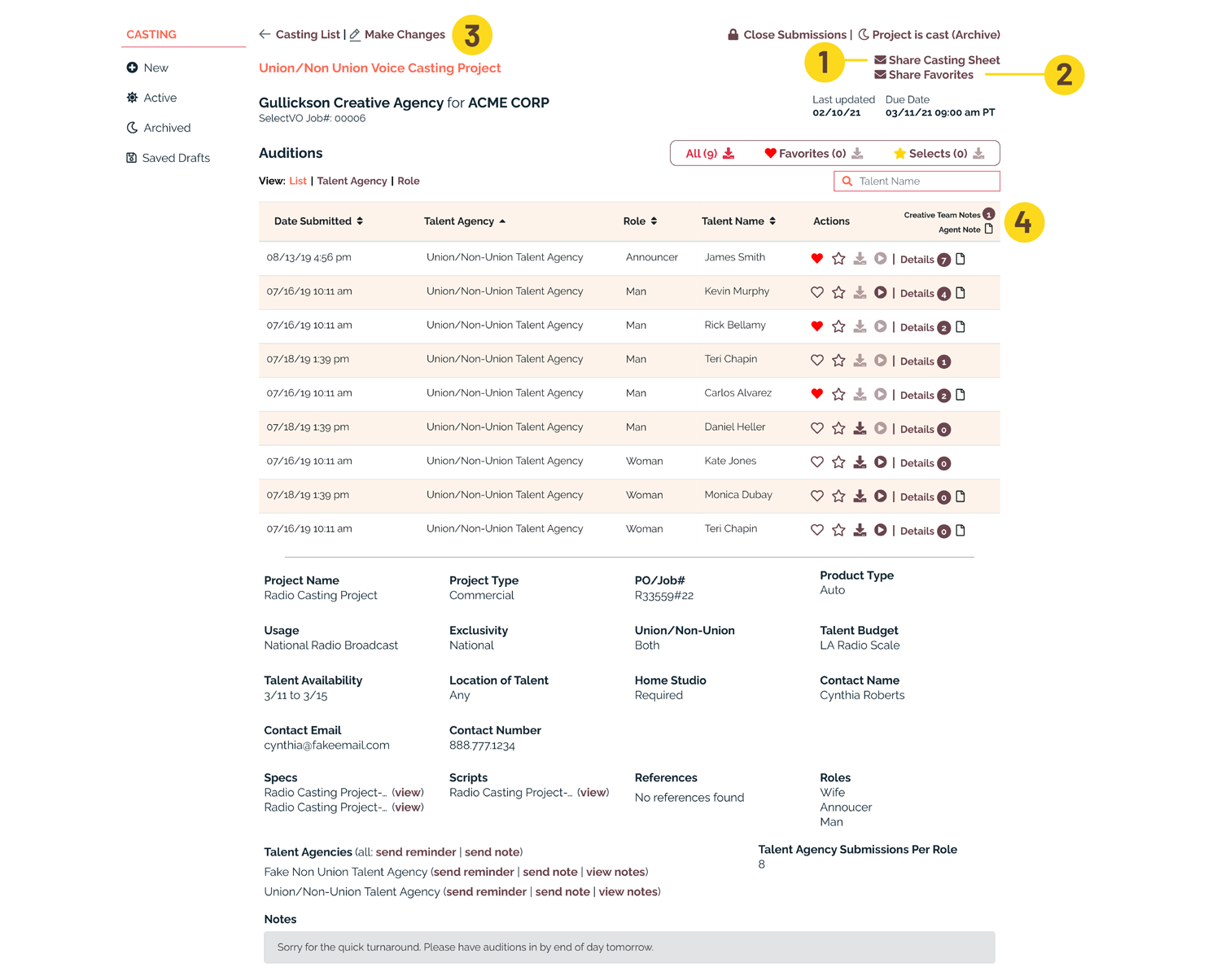 Share Casting Sheet. Your team doesn't need an account to listen to auditions. Enter their e-mails in our system or copy the project link to use your own e-mail client.
Share Favorites. This feature is great for sharing a curated audition list with your client.
Make Changes. You can modify an active project at any point. This is necessary if spec/scripts change or if you forgot to invite a specific talent agency. TIP: You have the option to send talent agencies a note about these changes.
Agent Note. An icon at the far right of an audition indicates that a talent agent has written a note about pertaining to that voice talent. Click 'Details' to view.
Ready to Book Voice Talent?
Based on overwhelming request from both clients and voice talent agencies, we do not handle talent payment or talent booking. To book a voice talent, just click on the 'Details' section of their audition to view their talent agency contact information.
Expect More From an Online Voice Casting Service
With SelectVO.com, the best voice over talent—and the best voice casting experience—is just a few clicks away.