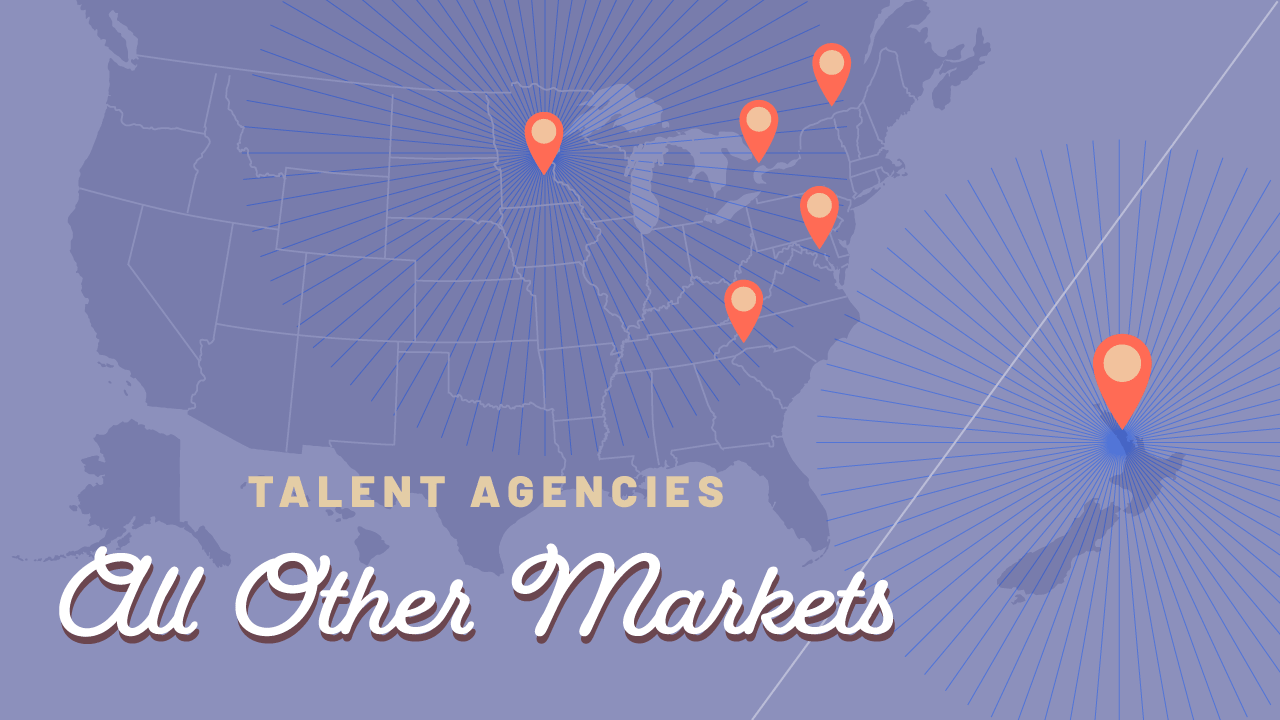 Talent agencies are a core component to SelectVO.com's success. While our site design, key features, and customer support make casting and choosing talent a breeze, it's the ear and experience of top voice talent agencies that put the perfect voice in front of you.
Over the next month we're going to highlight the talent agencies that make us look good, and help your project reach great.
To make the list more concise, we've broken up these articles by region. This week, we're going to highlight talent agencies outside of the previously posted markets.
Many of these talent agencies represent talent across the country (or even, around the world) and should be considered for any casting project.
ASP VO
Asheville, North Carolina
Since 2010, ASP VO has only specialized in voice over. We represent a diverse roster of English, Spanish, Union and Non Union professional talent from around the country, and we work across time zones to find the right voice for our clients and always meet their needs. Voices… it's what we do.
BigMouth Voices
New Zealand
We're a bit different as we are based in New Zealand! We represent award-winning professional voices from all over the world.
Bigmouth started out in 1996 with the quirky raw voices from the local university radio station bFM. Over the years the number of voices and clients grew. We maintained the integrity of being an agency with great voices, efficient service and a bit of fun!
We now represent the largest number of voice artists in Australasia. With more and more great clients and voices coming to Bigmouth from around the world we are proud to be BigmouthVoices.com.
We look forward to working with you all soon. We love to talk!
Impressive Talent
Maryland
Impressive Talent was created, and is operated, by professionals who help their talent grow their resume.
We specialize in commercials, animation, promos, trailers, narration, video games, ADR/looping, politicial, industrial and international voices.
We personally vet every voice talent we sign and are available every day of the week to provide the voice you need easily, so you can do other things in life.
Moore Creative Talent, Inc
Minneapolis
Moore Creative Talent is a woman & family owned, full-service talent agency (one of the first SAG franchised agencies in the US) with over 65 years of experience in voiceover, on-camera, print and fashion representing adults and children of all ages.
We feature voiceover talent nationally and internationally and have decades of experience negotiating SAG and non-union projects. We provide a variety of experienced and quality talent for projects, to insure we fill your needs. Our talent are well versed in commercial, industrial, narration and promo work. We welcome your inquirers!
PN Agency
Toronto, Montreal, and New York
PN Agency is one of North America's oldest non-union voice talent agencies, having launched 30 years ago in 1991. We represent voice talents exclusively in Toronto, Montreal and New York. Our sister agency, Ethnic Voice Talent, represents foreign language and accented talents in those same 3 markets.
Ta-Da! Voiceworks
Toronto
Ta-Da! Voiceworks was established to address a need in the industry for personal service for both the talent and client alike. We aren't just your talent agency of choice; we are your partner every step of the way! You will receive prompt professional attention regardless of the scope of your project. We listen, understand and produce.
No need to search through huge rosters of "Just OK" talent… because we believe in quality not quantity and represent some of the best voice talent in the business. Our talent can fulfill any of your voiceover needs: commercials, animation, narration, corporate videos and presentations, e-learning, websites, telephone systems and more… no project is too big or too small.